A Christmas-mad tree surgeon who has covered his home in lights to raise cash for the Teenage Cancer Trust and "bring the festive magic back for the kids" says his electricity bill will only be £300.
Andrew Walters's spectacular display has become a Christmas tradition in the village of Stillington, Co Durham, and 400 people came from as far away as Leeds for this year's grand switch-on at the weekend.
And his videos of his spectacular efforts have been viewed more than 1.5 million times on TikTok.
Mr Walters, who has been putting on the display for more than five years, said everybody asks about his electricity bill, but says the 10,000 LED lights cost under a pound an hour to run.
"To be honest, last year, the whole season of Christmas cost £280, which was sponsored by a business," he told the PA news agency.
"It's been sponsored again by a business and the bill will be about £300, which runs out at about 98p an hour when the lights are on, and that includes my household electrics as well.
"LEDs are so cheap to run, you can have as many as you want."
Mr Walters said he was driven to make the show – which includes a replica toy shop window – bigger and better than ever following the feedback he has received for his previous efforts, including from the Teenage Cancer Trust.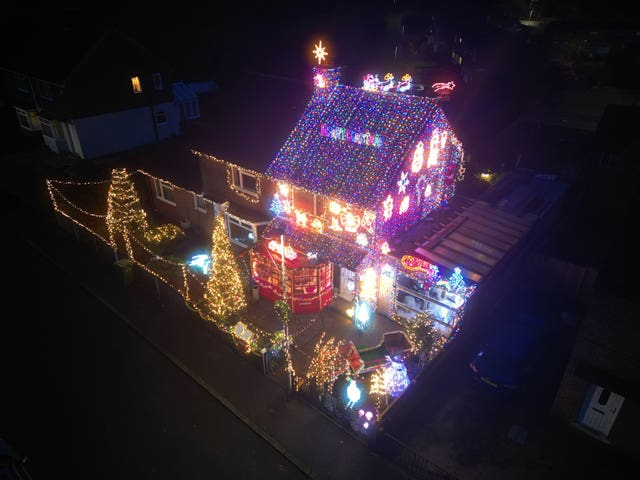 He said: "This year, I've extended the display quite a bit.
"I've put a lot more lights on this year. Last year's feedback I got from families and messages I got from the Teenage Cancer Trust was gratefully received, and that's what makes me do it, and brings the festive magic back for the kids."
Mr Walters said he started planning the display at the beginning of the year and the work began in mid-September.
Among the guests at Saturday's switch-on was Santa himself, who turned up in his sleigh.